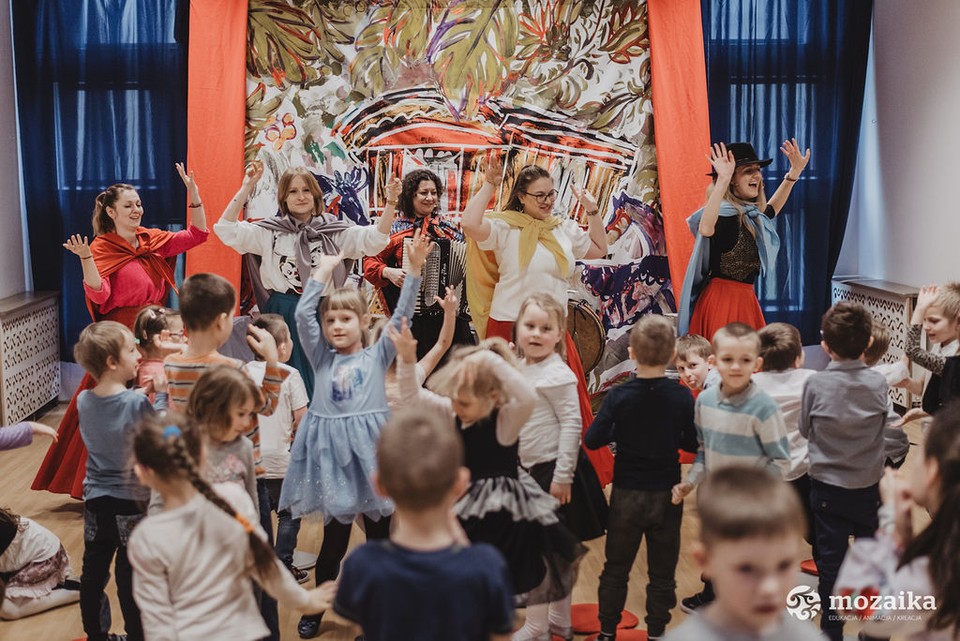 MAŁE ETHNO: "Opowieści Wielkiej Drogi"– spektakl Teatru Mozaika
Type

Theatre / dance

Place

Park im. Adama Mickiewicza

Hour

g. 12

Date

24.06.2023

Price

10.00 zł
bilety: 10 zł (dziecko), wstęp wolny (opiekun) / wiek: 3+ czas: 45'
tłumaczenie na PJM – Anna Sobek

Opowieści Wielkiej Drogi
Skąd jesteś? Zewsząd.
Dokąd idziesz? Wszędzie.
Po co? Żeby zaprzyjaźnić się ze światem.
/Thagar Sovnakuno/
Dom, podwórko, wieś, miasto – konkretne miejsce, do którego należymy, wydaje się nam oczywistością. Ale czy dla wszystkich tak jest? I czy zawsze tak było? Wyruszymy w muzyczną podróż z tymi, którzy żyli w drodze i zewsząd zbierali obrazy, pieśni i opowieści… Zagłębimy się w urzekającą historię kowala Kalo oraz pewnej zielarki, która potrafiła rozmawiać z ziołami, a nawet… Zaraz, zaraz, nie możemy już teraz zdradzić tej tajemnicy – tego dowiecie się na kilka dni przed świętem Ederlezi. Co to za święto, jaki ma związek z ich historią oraz co przydarzy się naszej zielarce…? Tego wszystkiego dowiemy się, wędrując wspólnie ścieżkami muzyki opowieści. A kiedy już wszystkie słowa dotrą do Waszych serc i Waszej wyobraźni, zatańczymy do muzyki na żywo.
Spektakl nawiązuje do motywów podróży i wędrówek oraz podkreśla wartość dobrego serca i życia wśród natury. W programie wykorzystano motywy zaczerpnięte z tradycyjnej kultury romskiej.
akordeon, opowieści, śpiew: Katarzyna Jackowska-Enemuo
baraban, narracja: Karolina Ociepka 
scenografia: Anna Kaźmierak Miło to widzieć oraz Pracownia Pi
fotografie: Marianna Łakomy Mikromomenty
Zwiastun spektaklu: https://youtu.be/0jLkAAZNVHk

_________________
Grupa dzieci podczas zabawy na spektaklu. Tańczą, klika osób ma uniesione do góry ręce. Na scenie aktorki ubrane w czerwone spódnice i przewieszone na ramionach chusty - tańczą. Jedna z nich gra na akordeonie.